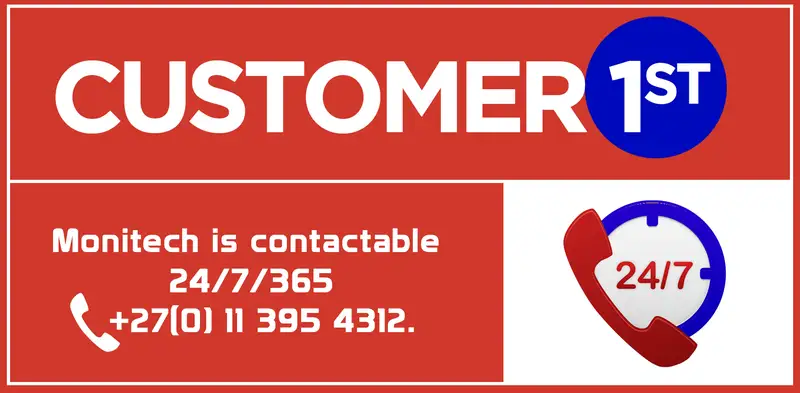 Monitech remains a "customer-first" oriented business.  Our customer's business wellbeing is completely aligned with our own, from the supply of leading safety and monitoring products to the professional services we provide. 
To support our customers round the clock operations we provide the same level of professional support.
Connectivity is critical to supporting our customers, that is why at Monitech we provide around the clock support to all our customers – 24/7/365.
Monitech is contactable 24/7/365 on +27(0) 11 395 4312
Monitech's product leadership is backed by a strong service ethos. Monitech provides around the clock technical, equipment and parts support for all installed systems.
In order to provide the highest levels of support to our clients, we pride ourselves on recruiting only the most highly trained technical experts, all of whom are vastly experienced in the underground environments in which our systems operate.
We understand that every minute downtime results in lost revenue.  Monitech provides dedicated, highly responsive around the clock technical, equipment and parts support for all installed systems.
Monitech delivers superior customer support, 24 hours a day, seven days a week.  Working Around the Clock: Monitech backs up our high-quality, leading safety and monitoring solutions to the mining industry with best in class in-field technicians.
Engineering Facility and Workshops
As an OEM, the Monitech workshops are responsible for the manufacture, assembly and servicing of all Monitech equipment. We are a fully compliant ISO 9001: 2015 facility.  Apart from stringent manufacturing systems, our engineering capabilities include high quality, close to tolerance CNC manufacturing, comprehensive fabrication solutions, plasma and laser cutting, welding (MIG/TIG and stick welding), paint and powder coating.
Precision machined components, fixtures and fully assembled finished products undergo full assembly and comprehensive Factory Acceptance Testing (FAT) before being released to Stores.  We are committed to maintaining a high degree of quality, competitive prices, on-time delivery and overall customer satisfaction.
Monitech has recently expanded the Brentwood Engineering and workshop facilities.  A new facility established in Secunda now provides our customers with an extension of our services with the added convenience of quicker response times and on-site meeting and training facilities.
EX CERTIFICATION FOR HAZARDOUS AREA ELECTRICAL EQUIPMENT
Monitech provides our customers with a comprehensive suite of professional services, a newly established service is the certification of flameproof enclosures.  Monitech is a certified manufacturer of flameproof equipment used in underground mining and hazardous atmospheres.  These products undergo stringent flameproof (FLP) testing which are then certified for underground installations. Monitech is certified to manufacture and repair certified equipment in compliance with the requirements of SANS 60079 in accordance with MASC permit No. MASC-060MR.
Warehousing, Stores and Service Vehicles
To support the professional services offered to our customers, Monitech maintains maintenance, repair and operations inventory (MRO) and Finished Goods at multiple fixed and mobile sites.  To keep pace with our customer demand, Monitech has built flexibility into their warehouse operations so that they are ready to give customers whatever they want, whenever they want it. To maintain support for client requirements and sufficient forward cover on spares, assemblies and finished goods Monitech has invested in multiple storage facilities.
Monitech has two permanent warehouses in Brentwood Park and Secunda along with a network of satellite stores to ensure better stock availability.  Our customers enjoy the advantages of a comprehensive inventory strategy with close to customer warehouse locations to increase speed and responsiveness, ensuring that customers receive their products on time.  To supplement our permanent warehousing, Monitech also has a fleet of in-field service technicians that are stocked with critical spares and parts to support planned maintenance and emergency call-outs.